Course name: Self-Publishing
Number: WA 01356
Dates & location: TR 5:00-6:15 p.m. in Victoria 201
My email: luther at rowan dot edu
Office hours: Tuesdays 3:30-4:30 or by appointment
This course considers the histories, theories, and practices of self-publishing and the do-it-yourself ethos behind such publications. In the next 15 weeks you will examine the degrees to which writers make and circulate texts on their own and the choices required along the way — the media chosen, the tools fashioned, the communities formed, and the risks taken throughout the process — as well as experiment with a variety of texts and platforms available in print and online.
Self-publishing isn't new, and many now-famous writers have published themselves. Thomas Paine, Ben Franklin, and abolitionists like William Lloyd Garrison, for example, self-published important political and philosophical works during the formative years of the United States. In the 19th century, creative writers like Edgar Allen Poe, Jane Austen, Beatrix Potter, and Walt Whitman self-published early editions of their now canonical works. Creative writers, like Stephen King and Superman-creators Jerry Siegel and Joe Shuster, began their careers creating or writing for other self-published sci-fi fanzines. Some self-publishers not only put out their own work but publish writing from authors they admire. In his acclaimed memoir A Heartbreaking Work of Staggering Genius, Dave Eggers wrote about his self-published magazine, Might, but he also used his money to start McSweeney's, one of the most respected independent presses in the world. Even high-powered celebs like Kayne West have self-published their own zines.
While it's important to recognize that many famous writers started out by self-publishing their work, focusing too much on this point also risks missing self-publishing's main affordance: that it provides an occasion to find or build communities of readers and writers. One common through-line with self-publishers is their refusal to wait for traditional publishing houses, corporate presses, or other gatekeepers to authorize their work because putting such work out there is meaningful to themselves and to the strangers who read their writing. The concept of community is central to this course and a fundamental one that self-publishers emphasize.
That said, because how we define "meaningful" varies significantly from writer to writer and audience to audience, authors choose to self-publish for different reasons. Some do so because their content is transgressive, challenging, or precarious – and no publishers will take on the level of risk required to make the work public. Tijuana bibles, for example, circulated anonymously illustrated pornographic parodies of popular comic strips as early as the 1920s, violating obscenity and copyright laws at once. Socialists, feminists, and anarchists have relied on self-publishing because their ideas were often considered radical.
Other writers self-publish as a reflection of their identity or histories, to meet other writers, or simply to become self-employed. Self-help books like Write. Publish. Repeat. and hundreds of others, promise fame and success. These books certainly have a market. According to data collected by Proquest imprint Bowker, self-published books crested over 1 million in 2018, increasing 156% since 2012. While e-books make up a large percentage of these books, Bowker notes that they are actually in slight decline, as self-published print books increased by 38% in 2017. Moreover, this data does not include the role self-publishing plays in other facets of public writing, including online journalism, political activism, and the arts.
Self-publishing has become easier, of course, as the means to produce and deliver texts have become more accessible. As such, this course recognizes that the phenomenon of self-publishing is a changing one; as the tools for publication and publicity become more accessible, traditional divisions between producer/consumer and writer/reader increasingly blur. Emerging authors today staple and sell their own zines, contribute to fanfic communities online, use print on demand (POD) services like BookBaby to publish and bind their own novels, hock e-books on Amazon, and post op-eds and listicles for sites like Medium and Buzzfeed. We'll explore these options briefly and, depending on your level interest, do a deeper dive into some of them. The ultimate goal is to introduce you to various tools for production and delivery with a critical eye, contextualizing how these old and new means of production have affected independent and emerging voices and the readers they reach.
One final (but important) note. This is an unconventional Writing Arts class in that we will be spending most of our time inquiring into the production and distribution of self-published texts; hence, there won't be as much time dedicated to the craft of writing or the kinds of invention activities that would help you find something to say. It assumes you have your own interests, stories, or preferred genres and the ambition to self-publish them. This can include narrative nonfiction, fanfic, comics, poems, photographs, essays, histories, or better yet, hybrid forms and genres that resist categorization. While certainly the modes of self-publishing will affect how you approach a project, my point is that this class intends to build from your already-existing passion and creativity and it assumes you're willing to work hard to usher those ideas to strangers … even if it means failing in that process. We'll explore those ideas early and often, having you engage with affinity spaces closest to your projects as soon as possible.
Course Trajectory
Unit 1: Do It Yourself (50% of course grade). We will begin the semester by examining the ways print-based writing communities throughout the 19th and 20th centuries achieved access to publics by using creative, transgressive, and controversial methods for producing and delivering their words and ideas. We'll look at how certain students, abolitionists, anarchists, hackers, hippies, feminists, and avant-garde artists, emerging poets, and experimental writers drew from their available means to assemble networks over time. Such historicizing sets up a more nuanced understanding of the course's controlling terms, "self" and "publishing," and how the meaning of each term is dependent on the resources, publics, and technologies available to writers. Meanwhile, we will read contemporary examples of self-publishing by exploring the world of zines, photocopied and hand-assembled print publications with small print runs of 200 copies or less. You'll order some zines from online distributors, handle examples, read a variety of texts about the history and evolution of zines, and develop plan for producing your own, which you can try to sell at our table at the Collingswood Book Festival on Saturday, October 5.
Unit 2: Authorpreneurs (50% of course grade). Whereas in the first half of the course we will have studied the DIY and activist impulses of self-publishing, in the second, we'll explore the more entrepreneurial world of digital self-publishing and the challenges it presents. How do authors find audiences when there is a hyperabundance of texts, self-published and otherwise? Without agents, presses, or other markers of distinction, how do these publications create value, brand themselves, and establish credibility? How do authors get money for and from their projects? While self-publishers no longer contend with traditional publishing houses and presses in order to reach audiences, they require the digital literacies and willingness to work with a host of web-based intermediaries —Squarespace, Amazon, Twitter, Medium, Wattpad, Kickstarter — and the algorithms and terms of service that come with their complicity. You'll engage with these intermediaries, making regular contributions to your blog, social media account(s), and online forums, looking for opportunities to connect with readers.
Once you've studied and tinked with these intermediaries and connected with affinity groups, you'll consider the economics of self-publishing by exploring crowdfunding. You'll examine a variety of publishing campaigns on sites like Kickstarter and Indiegogo, then sketch your own campaign that would fund a more ambitious print or digital publication. To do so, you'll produce an introductory video and other promotional materials and design a budget/system for rewards that would ultimately fund the project. You'll submit materials, but also reflect upon the processes and decisions made toward the final project.
Required Materials
Some shared readings and other materials will be provided by me via Google Drive or as links. However, you should be prepared to spend $50 to $100 on:
Ordering zines (~$20-30)
Making copies for your own zines to distribute (~$20-30)
Registering a domain name for your own website (~$10-20)
Purchasing a book of your choice on the business of self-publishing (~$0-20, depending on your preferred book and format)
Writing Arts Core Values
Like other courses in the Writing Arts sequence, this one is informed by the major's core values (note: for more details on how these can help you with Portfolio Seminar, see the document "Questions to Help Further Your Understanding of the Department of Writing Arts Core Values"). While Self-Publishing touches upon every value to some extent, the following will be explicitly emphasized:
Value 6. Writing Arts students will understand the impact evolving technologies have on the creation of written texts.
Value 7. Writing Arts students will show an understanding of the power of the written word and that such power requires ethical responsibilities in its application.
Value 9. Writing Arts students will have knowledge of the professions available to them or will be able to articulate how they will apply their understanding of writing in their future career, or both.
Course Objectives
Students will understand the goals and challenges of self-publishers by studying their historically different rhetorics, socio-political contexts, networks, ethics and tactics, available technologies, and publics and audiences.
Students will develop an understanding of the wide range of contemporary DIY publishing technologies, genres, and venues and their effects on immediate and distant publics.
Students will experiment with different entrepreneurial technologies and practices that explore their affordances and limits with certain publics and markets.
Students will understand the impact of the means of production on delivery, specifically as it relates to multimodality and hyper-mediated texts.
Students will assess the ways in which intellectual property and copyright law both limit and protect opportunities to produce, distribute, exchange and consume public texts.
Basic needs & self care
Hunger, homelessness, financial concerns, and other struggles with basic needs are a growing problem among college students at Rowan and across the country. This statement is intended to help disarm stigma or shame—we all have basic needs, and the faculty and administration at Rowan want to ensure that basic needs are being met so that our students can learn and succeed (in fact, one of Rowan's four Strategic Pillars is affordability). Relatedly, college life can be busy, overwhelming, and stressful. When your body is run down and you're suffering from anxiety or distress, it can be difficult or impossible to be an effective student while balancing work, friends, family life, and more.
From Writing Arts: The First Year Writing Program has a helpful Student Resource page that provides an overview of all the services available at Rowan.
Any student who faces challenges securing their food or housing and believes this may affect their performance in the course is urged to visit The Wellness Center or contact one of the many health and safety resources offered at Rowan.
In addition to these resources, you might also find these links useful: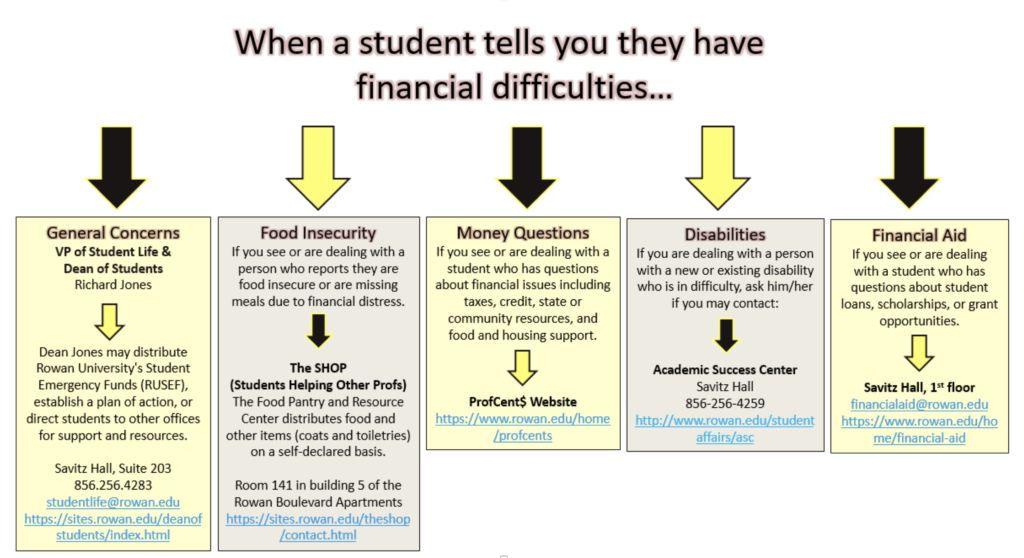 Attendance and late work
A healthy balance of flexibility and accountability are crucial in professional contexts, including the college classroom. We will strive for such a balance in this course.
As you might expect, regular attendance is essential to doing well in this course. As with all courses in the Writing Arts department, you may not pass the class if you miss more than six class periods—including excused and unexcused absences. I have been told that students misunderstand this point, so to be clear: an excused absence does not mean your absence is forgiven. It means that you can make up work due that day. Further, excused absences (including religious observances, official university activities, illness, bereavement, or inclement weather) require official or verifiable documentation. Predictable, university-sanctioned absences such as team travel should be cleared with me early in the semester.
If you must be absent, it is your responsibility to find out what you missed by consulting this course site, or if necessary, contacting another student. At this time, if you still have questions about the class material, you may email me or schedule an appointment to meet.
E-mail
If you do email me, here is something to keep in mind: professional emails are direct and to the point. They communicate one to two pieces of information and ask specific rather than general questions. Also, please note that while I appreciate emails explaining absences, I may not respond to them. For example, consider the following email: "Dear Professor, I will be absent today because I am feeling ill. Will I miss anything?" This email gives me some important information—the student will be absent due to illness. However, the question "Will I miss anything?" could be taken as disrespectful and is unhelpfully vague. I say disrespectful because, from an instructor's point of view, there is always something missed by not attending class, especially in a seminar class. It is general because the answer to this question is so extensive that it would be more efficient to meet in person to discuss it rather than respond to it via email.
On the other hand, if your problem is technical — you can't post on your blog or access readings in Google Drive (likely in a course such as this) — please take the time to include additional details and screenshots. Tell me about your system, settings, what you've tried, what you don't have access to, or your specific limitations. Trying to troubleshoot a problem one question per email is frustrating and not a good use of our time.
On that note, complex and sensitive issues — such as those that may require one or more of the resources mentioned in the basic needs & self care section — should be resolved outside of class and face-to-face whenever possible. If an issue occurs, please let me know as soon as it is reasonable, especially before it becomes more difficult to manage. Let me say again that your academic success in this course and throughout your career depends heavily on your personal health and well-being. Everyday stress can be significantly compounded by unexpected life changes outside the classroom including unemployment, illness, or grief. Although these policies are meant to be equitable and efficient, they should not preclude you from reaching out to me about any difficulties that impact your potential in this course.
Childcare
Many students have responsibilities for children in their lives, whether as a parent, an older sibling, etc. If your childcare needs ever come into conflict with the course schedule, please don't feel as though you need to miss class. As a parent myself, I certainly understand that sometimes plans fall through. If this happens you are welcome to being a child to class with you. I just ask that you bring materials to keep them busy, being especially mindful of your classmates and the learning environment. If you have any questions about this, feel free to contact me.
Professionalism and classroom behavior
I strive to cultivate an educational environment in our classroom that is inclusive, honest, democratic, and congruent with Rowan's classroom behavior policy. In my experience, such an environment can take time to build, but it must begin with an assumed sense of respect and sensitivity, and especially toward those who do not act, speak, or look like ourselves. Toward that end, we will use preferred names and otherwise respect the communicative needs of each person based on aspects of their social identity as quickly as possible. Moreover, participation in this environment does not mean simply attending and being available; it means working actively, collaboratively, responsively, responsibly, thoughtfully, and constructively to one another, and generally being a resource for our collective intellectual development.
Learning in a lab
From the University [link]: The use of laptop or notebook microcomputers and other mobile electronic devices for classroom activities is allowed at the discretion of the instructor or in the case of a documented disability. The use of such electronic devices should not be a distraction to other students or the instructor. Students are expected to use electronic devices only as part of ongoing class activities. If an instructor believes the use of electronic devices is detrimental to the learning environment or gives any student an unfair advantage, then the instructor may prohibit their use at any time. Also, the use of any device for purposes of audio or video recording may occur only with the prior approval of the instructor.
This class takes place via a lab format, meaning that every time we meet we will be surrounded by technology and all the distractions that come with them. For this reason, I request that if you have a smartphone that you limit your attention to it. This means not only putting your phone in silent mode when you're in class, but turning off your notifications so your attention isn't constantly compromised.
This will be additionally important since most days I will be directing you to complete various tasks at our computers. For complex reasons, some of you will be better equipped to handle these tasks than others. Although a lab requires direct and technical instruction, keep in mind that you are also responsible for your learning. A small amount of class time will be spent on lecture and demonstration; however, I expect you to come to class having engaged with the material thoughtfully while also being flexible and critical in troubleshooting unexpected problems. While I am eager to help everyone here, I can only be in one place at a time. If you find yourself waiting for my assistance in the lab or stuck at home, consider asking someone nearby if they can help or by Googling the problem or using resources like YouTube or LinkedIn Learning. Your patience is also critical in times of challenges. Like many other learning contexts, iteration and failure are instrumental to becoming more competent with technologies; users must be both tenacious and flexible.
Accessibility
From the University [link]: Your academic success is important. If you have a documented disability that may have an impact upon your work in this class, please contact me. Students must provide documentation of their disability to the Academic Success Center in order to receive official University services and accommodations.  The Academic Success Center can be reached at 856-256-4234. The Center is located on the 3rd floor of Savitz Hall. The staff is available to answer questions regarding accommodations or assist you in your pursuit of accommodations. We look forward to working with you to meet your learning goals.
I assume that all of us learn in different ways, and that the organization of any course will accommodate each student differently. For example, you may prefer to process information by speaking and listening, so that some of the information on this course site is difficult to absorb. Or you might prefer to annotate printed texts over digital ones. Please talk to me as soon as you can about your individual learning needs and how this course can best accommodate them. If you do not have a documented disability, remember that other support services, including the Writing Center, are available to all students.
If you have a documented disability that may have an impact upon your work in this class, please contact me. Students must provide documentation of their disability to the Academic Success Center in order to receive official University services and accommodations.The Academic Success Center can be reached at 856-256-4234. The Center is located on the 3rd floor of Savitz Hall. The staff is available to answer questions regarding accommodations or assist you in your pursuit of accommodations. They look forward to working with you to meet your learning goals.
Grades
The course will unfold via two units, each with two parts. Each unit is worth 200 points with each part equalling 100 points. Details for each assignment can be found on their respective pages but for now you can expect me to use a mix of approaches to assessment with them. Grades are posted regularly on Blackboard. Here's a breakdown:
Tactile proof presentation = 100 points
Zines = 100 points
Self-publishing = 100 points
Crowdfunding = 100 points
In terms of my responses, you should expect my feedback to be constructive and kind. I will respond primarily in two ways: according to the learning and assessment goals articulated in the unit assignment, and as a reader who is interacting with the text you've produced. Feedback on your work is one of the primary available spaces for individual instruction, so please see me during office hours or make an appointment if you'd like to discuss your work!
Letter grades will be based on the following final point values:
| A | 94-100 | C+ | 77-79.9 |
| --- | --- | --- | --- |
| A- | 90-93.9 | C | 74-76.9 |
| B+ | 87-89.9 | C- | 70-73.9 |
| B | 84-86.9 | D | 65-69.9 |
| B- | 80-83.9 | F | 64.9 or less |
Incompletes
The grade of INC may be awarded only at the end of a term, when all but a minor portion of the coursework has been satisfactorily completed. The grade of INC is not to be awarded in place of a failing grade or when you are expected to repeat the course; in such a case, a grade other than INC must be assigned. You should make arrangements with me to receive an incomplete grade before the end of the term.
Digital spaces and privacy
In this course, you will be asked to create accounts and generate content that will often circulate openly on the web. These spaces are both too numerous and too self-directed to identify here. However, you'll want to a least skim their terms of service (TOS) agreements, especially if you are submitting your own ideas and contributing your labor toward their sustainability. Do you own your own reviews on Goodreads, for example, or does Amazon? Can you reproduce them on your own blog? We'll tackle questions like these in this course. However, one site we'll all use is Rowan Google Drive. Soon I will have created a dedicated shared folder [last name, first name + DIY] for you to submit your drafts, homework, and annotations if you plan to read digitally. While this folder will technically be private, please be aware that I will only have access to the content within it. If you complete assignments but do not put them in the shared folder, I cannot see them. [TOS]
For a variety of excellent reasons, you may feel uneasy about being identified with/by that content. In that case, you're encouraged to take steps to ensure relative anonymity for your work, while still ensuring a valuable experience. These steps include: using screen names, disabling location services on mobile devices, and using decoy or throwaway accounts on digital platforms. All work created for the course is required to remain published until you've received your final grade. Once final grades are submitted, you're free to permanently delete anything you've created for the course. I'm happy to further discuss reservations with you individually or during class discussion.
Technology
I encourage you to bring to class any devices that will benefit your learning and composing throughout the course, including your own laptop. That said, I hope you will develop and practice a mindful workflow that allows you to integrate your smart technologies while being as present as possible in class activities. This is not easy and so I may on occasion assist individuals or the class as a whole in this practice, depending on how well attention is being managed.
Further, you can expect technology to fail in plenty of ways throughout the semester. To avoid disaster, whenever applicable please be sure to save all of your materials in three ways: (1) to your device's hard drive, (2) to a physical external drive, and (3) to a cloud-based storage system (i.e. Google Drive). As someone who has used this system for nearly 10 years I can attest to its effectiveness: I have never lost, deleted, or suffered a loss from a corrupted file.
Academic integrity
All non-original content that appears in your work should be documented. Any phrases or passages used that are not in your own words absolutely must be put in quotation marks. Please let me know if you have questions about your citation work in a particular assignment or writing context. That said, I encourage a conscientious application of Fair Use for Education principles. As we are writing for hybrid academic and public contexts, I expect citation to be consistent and visually/functionally appropriate for the medium in which borrowed and remixed work appears. Please be in touch if you have any questions about this.
Further, I expect all compositions submitted for course credit to be the work of the student(s) who turned in the work. Per Rowan University policy, all academic integrity violations — no matter the level or sanction — will be reported to the Office of the Provost.
The Department of Writing Arts does not allow students to turn in the same writing assignment for more than one class. Students must receive express permission of their instructor to submit writing or a substantial part of a written text previously submitted to another class. Not doing so is considered academic dishonesty and, following the policies laid out by Rowan, may result in an F for that assignment.
Rowan Success Network
The Rowan Success Network powered by Starfish® is designed to make it easier for you to connect with the resources you need to be successful at Rowan. Throughout the term, you may receive emails from the Rowan Success Network team (Starfish®) regarding your academic performance. Please pay attention to these emails and consider taking the recommended actions. Utilize the scheduling tools to make appointments at your convenience (i.e. Tutoring, Advising, Financial Aid, etc.). Additional information about RSN may be found at www.rowan.edu/rsn.
The Writing Center
For support in any stage of the composing process, please visit the Writing Center, located in Campbell Library, room 131. For hours and to book an appointment, visit their website.